'Project Runway' Helps Creativity of RIT Metal and Jewelry Design Students Take Off | College of Art and Design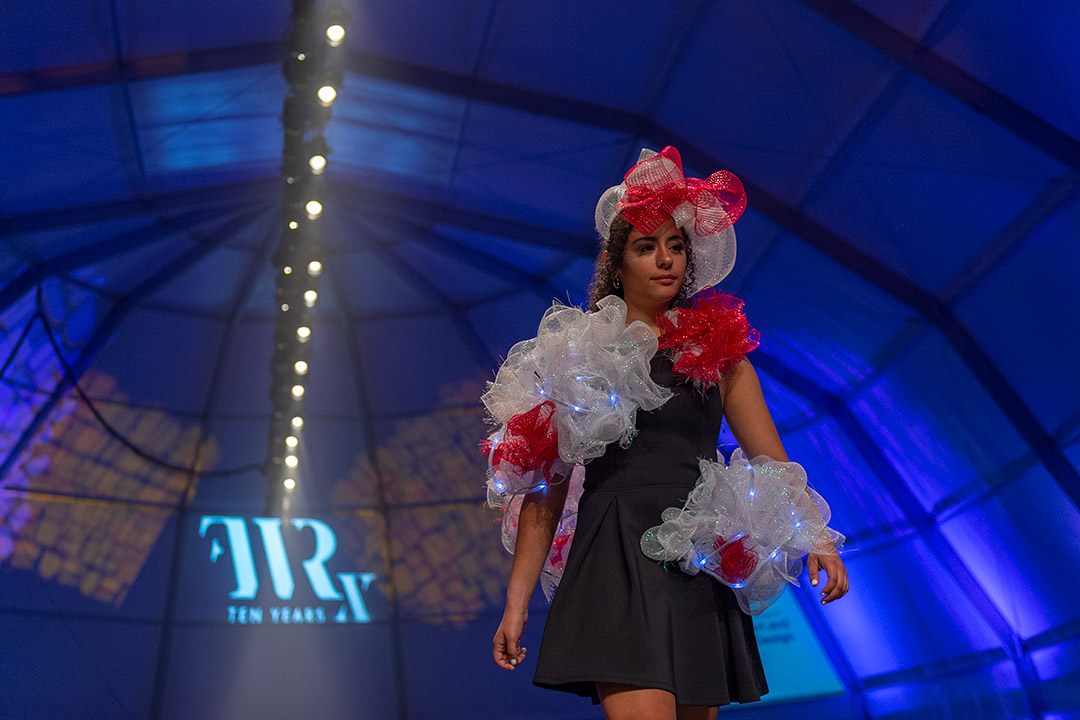 RIT's growing role at an annual event celebrating fashion in Rochester has become an ever-thriving part of the School for American Crafts' metal and jewelry design program, inspiring current students and alumni to make stunning creations. as well as important links with industry.
A dazzling display of the fusion of technology, art and design was in the spotlight during RIT's sixth consecutive year at Rochester Fashion Week. In all, 13 students and two alumni from RIT's School for American Crafts (SAC) at the College of Art and Design marched past a sold-out crowd under a large tent next to the Midtown Athletic Club in Rochester.
"I continue to be impressed by the high level of creativity and tremendous effort our students have put into supporting this project," said Len Urso, Ann Mowris Mulligan Emeritus Professor at SAC. Urso's "Project Runway" class grew out of RIT's initial appearance at Fashion Week in 2013. "I couldn't be prouder."
One of its students, Alex Soule, a fourth-year metallurgy student from Penfield, NY, and leader of this year's Project Runway, said RIT has earned a reputation for its "cutting-edge" wearable designs that have wowed audiences over the years.
"The whole idea of ​​the project is to let the students create whatever they want, build the line-up based on the colors and shapes they created, and match the music with all of that as well," said Soule. "This year, we've brought out a lot of bold contrasts, especially reds and whites."
She created her piece from netting and multi-colored gardening yarn to create continuous flowing shapes. "I was looking for a whimsical message with my organic piece," said Soule, who also modeled her creation. "It's a fun opportunity to wear the piece you've designed because you know what it embodies and you can show it in your movements. I also modeled my work last year.
RIT has become famous for pushing innovative creativity at Fashion Week, with edgy wearables. This year, as in the past, students used a wide variety of materials, some recycled, to design their pieces, including mesh, fabrics, foam, glass, wood, paper, plastic and aluminum foil.
Megan Werner, a fourth-year metal and jewelry design student in Mount Airy, Maryland, created wearable artwork featuring repeating floral patterns.
"I wanted my concept to represent androgyny and the fluidity of human expression," Werner said. "I think it's a super relevant question today, people want to express themselves the way they want, even if not everyone agrees."
Maddy Schoenfeld, a fourth-year metals and jewelry student from West Milford, NJ, created what she described as "a post-modern piece" made of neograin foam on top of a larger piece of foam "creating a mathematical piece and parametric with the same pattern repeated hundreds of times.
"It's a double möbius strip and it opens up to create these flowery shapes," said Schoenfeld, who helped direct both this show and last year's. "I wanted people to see that it's mathematical, but also super fluid and organic."
Urso, an internationally recognized and award-winning artist, said the annual RIT talent showcase at Rochester Fashion Week has enabled students and alumni from regions such as India, China, Kuwait, Korea as well as the United States to demonstrate their incredible creativity and talent.
"I always try to bring in industry professionals because my dashboard is where they go from here," said Urso, who noted that the program has sent dozens of graduates to Tiffany & Co. and elsewhere.
Since RIT's involvement began six years ago, nearly 100 metals and jewelry students have created pieces inspired by the Fashion Week runway, which celebrated its 10th anniversary in October. It also marked the third year in a row that Nancy Munson, wife of RIT President David Munson, walked the runway wearing student-designed jewelry.
"Once again, I was very pleased to have Nancy Munson join our presentation, as she has become an important mentor to the young women in the jewelry design program," Urso said.
"The Runway Project has inspired significant growth in my students' self-esteem and organizational leadership," he added. "As an educator, I am grateful that Rochester Fashion Week has become an important event within the RIT community."