PHOTOS: Targeted jewelry store for second time in a year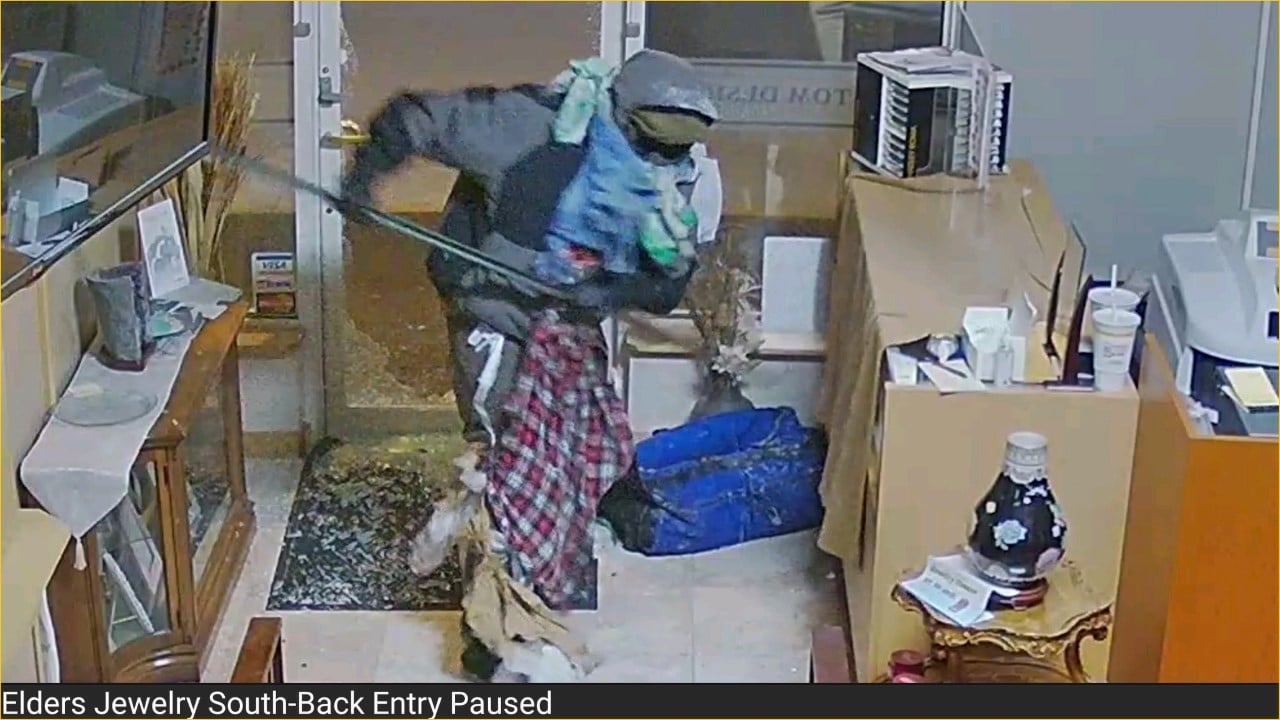 LINCOLN, Neb (KLKN) – For the second time in just over a year, Elder Jewelry is recovering from break-ins at their store, located near 29th and Pine Lake Road.
"Someone had kicked in the back door and a display case in the back, they got some sterling silver items," store owner Kim Elder said Thursday afternoon.
On Thursday morning, his store's alarm went off around 4:30 a.m. after a person covered in layers from head to toe threw a brick through the back door, smashing the window and then entering the store.
Security video on the building saw the thief cycle past the store several times before stopping to break and enter.
"It's frustrating, you know, you have security, you have cameras, you try to do whatever you can do," Elder said. "I don't know if it's a sign of the times… I mean it's hard for everyone, we have a pandemic, some people may be out of work – I don't know."
Since starting his business in 2013, Elder sometimes says he has gone years without any safety concerns.
But since last January, they have been both broken into and detained at gunpoint.
"It was around closing hours of the day, the guys came in, one seemed to have a gun," Elder says of the January 2020 robbery. "The police came quickly, the guys got together. separated and they got caught.
Related: "Very, Very Scary. Images show gun robbery suspects at Lincoln jewelry store
The two suspects in this incident have since been arrested and charged with robbery.
However, police are still looking for who was responsible for Thursday's burglary. They fled with a few thousand dollars in silver items and left behind a trail of evidence and hundreds of damages.
Elder says these incidents leave them frustrated, tired and wondering if it is worth it for these criminals.
"I think there would be an easier way to make a living than riding a bike in a snowstorm and going out to the shops. "
Anyone with information about the incident is encouraged to call Lincoln Police at 402-441-6000 or Lincoln Crimestoppers at 402-475-3600.