Hammer-wielding thieves smash a Beverly Hills jewelry store in broad daylight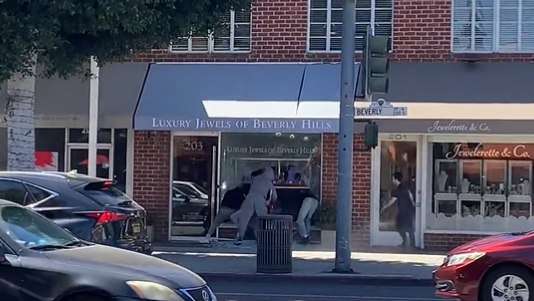 By Richard Winton
Los Angeles Times
LOS ANGELES — Hammer-wielding burglars smashed the windows and display cases of a Beverly Hills jeweler and stole up to $5 million worth of gems, designer watches and necklaces in a brazen daytime heist on Tuesday .
Beverly Hills police say the five robbers who broke into Luxury Jewels of Beverly Hills – known for its high-end displays of diamonds, sapphires and other gemstones, as well as its super high-end watches – fled minutes after the burglary in broad daylight, while the store was surrounded by Beverly Hills police cars.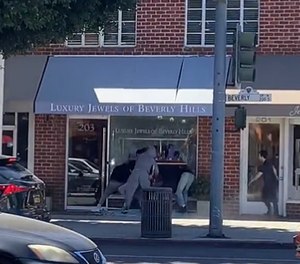 Beverly Hills Police Chief Mark Stainbrook said the burglars hid their features with hoodies and masks and so far the department has no description of them.
According to Beverly Hills Police Lt. Giovanni Trejo, the department received multiple calls of a burglary in progress at 1:45 p.m.
A passerby standing across the street caught part of the burglary as the assailants continued to smash the window, grabbing as much as they could before fleeing north on the 200 block of South Beverly Drive. The men, dressed in hoodies and masks, could be seen rushing down the sidewalk and weaving through cars stopped on the street as shoppers looked on in amazement.
[RELATED: Erica Sandberg on the increase in property crime and retail theft]
The thieves abandoned the vehicle they had arrived in near the store and fled in a second vehicle. A store owner told KNBC the burglars took away up to $5 million worth of merchandise.
With windows visibly trashed and immaculate storefronts smashed, Beverly Hills police detectives and forensic technicians scoured the scene Tuesday afternoon, looking for clues to the identities of the burglars.
Beverly Hills Police are examining a network of street cameras, both public and private, that capture vehicle movement within the upscale community.
This story originally appeared in the Los Angeles Times.
©2022 Los Angeles Times. Visit latimes.com. Distributed by Tribune Content Agency, LLC.